JEFF BUCKLEY TRIBUTE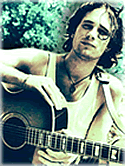 In this extensive, highly-personal tribute to the late, great Jeff Buckley, you'll find numerous topics covered. For ease in navigation, I've provided links to this tribute's different sections below. Enjoy!

My Personal Tribute to Jeff Buckley:
Okay, here's how much of a DUMBASS I am... Way back in February of 1995 (or thereabouts), a friend of mine named Marianne invited me to go see a performance of this "guy signed to Columbia" that she went to high school with. The show was to be held at Los Angeles' Wiltern Theater (or the American Legion Hall?). She described him to me, said something like "he sort of reminds me of you" (which maybe was a reference to his sense of humor, because musically, as I'd later find out, THIS GUY KICKS MY ASS), and swore that I'd love it. Of course, at that period in my life, virtually all that I was listening to (in the "rock" vein) was Mr. Bungle, Nine Inch Nails, Fishbone, Soundgarden, King's X, Buckethead, and Björk. Believing it wasn't something "up my alley," after much procrastination, I informed my friend that I "wouldn't be able to make it." In a few short years, I would realize how much of a mistake my decision was. Obviously, the guy's name was Jeff Buckley.
Some time after May 29, 1997, I began noticing in several trade publications and entertainment-oriented magazines (e.g., Entertainment Weekly, Rolling Stone, etc.) that "rising star Jeff Buckley drowned in Memphis, Tennessee's Wolf River, after going for a swim, fully-clothed, with his boots on." Something to that effect, anyway. I thought, "Hmm... I think that's that one guy?!" I felt bad for him, his family, his band, and his fans. Then I turned the page, and that was that. I didn't really know anything about him at all. Up to that point, I still had never heard a single Jeff Buckley song, read a single review of one of his recordings or shows, or even seen one of his albums.
Well, sometime around June 1998, an album called Sketches for My Sweetheart the Drunk hit the streets. How clueless was I? I thought it was a Jeff Buckley "Greatest Hits" collection! Oddly, between June and August 1998, for some reason I was having a horrible time sleeping—about two hours a night, every single night (this actually continued up through February 1999, but who's counting?). This problem was also making it almost impossible for my tendinitis to heal. By late August, I was a pretty bummed-out dude. Around that time, while at a record store in San Diego, I noticed a few Sketches CDs in a rack. I picked it up, looked it over, bought it, brought it home, and let it sit on a shelf for a month. At some point in time, while in a pretty depressed state, I decided to put on Disc 1. I was immediately drawn in by the raw guitar tones and rhythm section work, and then I heard a voice unlike any I'd heard before. At first, I could only describe it as "creamy." But after a couple tracks, I noticed the intensity—how edgy-yet-perfect everything sounded to me (he rocked!)—and that he was capable of opening himself up, unafraid to let his sensual, somewhat effeminate side show. His vocal vibrato simply seared right through me. And, of course, there was his phenomenal range... Immediately after I heard "Morning Theft" (actually, while it was still playing) I wrote a chorus to one of my own songs. Some century, maybe I'll slap part of it up on this site.
At the conclusion of Disc 1, I decided to read the liner notes that came with the album's packaging. That's when it hit me: This wasn't a "Greatest Hits" record. Duh! This was a "work in progress"—a collection of rejected studio tracks and production demos, some of which were intended to be songs on an album called My Sweetheart the Drunk. When I read the story of what actually happened, tears streamed down my face. I couldn't believe how sad I was. I immediately inserted Disc 2. When it got to "Haven't You Heard," I hit "repeat" on my CD player for probably two hours straight. Then I heard the four-track stuff. Haunting, yet beautiful. Sparse, yet wholly complete. And he seemed to be in a dark place. (As I'd soon find out, listening to him would play a major role in helping me get out of mine. Ooh, the drama!)
During the time I let those two discs spin, I never heard one single melodic cliché, recycled guitar riff, "borrowed" chord progression, or predictable/pointless lyric. Jeff Buckley's music was a breath of fresh air to me. I had to hear more. Since then, I've bought every single official release that's available—Live at Sin-É, Grace, Live at the Bataclan, Mystery White Boy, Live at L'Olympia, the full-length Live in Chicago video, and numerous imported CD singles (Australia's pressings of Eternal Life and the Grace Live EP, and the Japanese pressing of Last Goodbye). I have also racked up a pretty obscene "unofficial" audio and video collection (no comment). As an added bonus, from listening to such a diversity of Jeff's music, I began to actually enjoy singing and playing guitar at the same time, and, through his inspiration, developed a deep interest in playing unorthodox versions of cover songs. Really, I can't even begin to tell you how much I feel I owe him... (BTW, I'm listening to Sketches—for the umpteenth time—as I type this.)
I should probably also mention that, given the fact that his recorded body of work is understandably limited, at the beginning, I found it hard to listen to any of the "new" Jeff Buckley CDs that I'd purchase. I didn't want to run the risk of "tiring" of them! Well, I haven't yet. And, thanks to his mother, Mary Guibert, it appears we'll continue to see—at the very least—the release of several more as-yet-unheard live/studio recordings of Jeff in the years to come.
Typically, any artist I freak over, I also like to "study" (read interviews, biographies, etc.) in an effort to understand where their creativity and passion comes from, among other things. I went into overdrive, when it came to learning about Jeff Buckley—I read every single interview/story/review I could find (in books, magazines, on the web, etc.). This, in turn, turned me on to artists he adored—I'd never heard of Nina Simone, Alex Chilton, or Gary Lucas (among others) prior to learning about Jeff. A few months ago, I bought the book Dream Brother—a biography that chronicles (and attempts to draw a parallel between) the lives of both Jeff and his estranged father, Tim Buckley. So far, I've only looked at the pictures. That experience made me so sad, I was—and still am—afraid to read it. Pretty soon I'll crack it open...

"DATING" JEFF BUCKLEY'S LES PAUL:
(First of all, let me start by saying I'm not trying to "take credit" for diddley doodle! I just think that, given the fact that a healthy percentage of this site's content is dedicated to and inspired by Jeff Buckley, that some people will be interested in reading about how some of this kind of stuff goes down. Read on...)
~***~
On 21 May, 2002, Guitar One Contributing Writer, Bob Keelaghan, received the following query from the Estate of Jeff Buckley, visa-vis Fun Palace Entertainment:
--------------------------------
"The Rock and Roll Hall of Fame (Jackie Clary) has decided to display Jeff Buckley related items, including his Gibson Les Paul guitar. We know Jeff purchased the guitar in 1995 in a Wisconsin state guitar shop, but without locating the receipt, we are unable to date the guitar. The guitar has the following serial # 00 XXX XXX [Note: I omitted the digits, for security purposes—D.T.]. Now we know the first couple digits usually indicate the year of manufacture, but in this case, it couldn't be 2000. Could you shed any light for us on this important matter? Thanks so much for your best estimate..."
--------------------------------
The above query was then forwarded by Bob to Guitar One's Editor In-Chief, Troy Nelson. Troy, knowing I was a full-blown Jeff Buckley lunatic, put me on the case!!!
First of all, as you'll soon see, "dating" Gibson guitars simply by their serial number is not the easiest of tasks. The date itself is not even remotely hinted at in the serial number; the number itself contains digits that are "code" for a certain year. After doing some digging, I came across an official "Gibson Les Paul" manual that put me on the proper path. Here's what I then sent to the parties that be:
--------------------------------
"I reckon that baby's a 1976. Here's the scoop, straight from an official 'Gibson Les Paul dating/serial#' manual:
During the period from 1975-1977 Gibson used a transfer that had eight digit numbers, the first two indicate the year, 99=1975, 00=1976 and 06=1977, the following six digits are in the 100000 to 200000 range. MADE IN USA were also included on the transfer and some models had LIMITED EDITION also applied. A few bolt on neck instruments had a date ink stamped on the heel area.
That's it!!! (Could it've been any more confusing?)"
--------------------------------
The cool thing? After all was said and done, Guitar One got this nice response back from the Estate of Jeff Buckley, visa-vis Fun Palace Entertainment:
--------------------------------
"Dear Dale, Troy and Bob,
I've just reached Jeff Buckley's mother Mary Guibert, and she, along with Fun Palace Entertainment, want to thank you for delivering key information to us just last week. The Rock and Roll Hall of Fame will be displaying Jeff Buckley's Les Paul guitar and other memorabilia and needed this information for the information plaque. Along with Mrs. Guibert, I will be traveling to Cleveland on June 15th for the unveiling (I'll send pictures if you want), and all your efforts will certainly be conveyed to those organizing the event. Thanks again for your expertise and for publishing the fine Guitar One Magazine."
--------------------------------
Pretty cool, eh? Now if I could just get to Cleveland to eyeball that axe up close...
[Crazy "name-dropping" trivia nugget: Which of Jeff Buckley's guitars did your silly site host actually get to touch? Answer: Jeff's famed Rickenbacker electric 12-string!! How? When I interviewed Chris Cornell and Alain Johannes back in 1999 at the place where Euphoria Morning was recorded (Johannes' house), I was taken to a room where Cornell's guitars were racked up. After Jeff Buckley's passing, as a gift (I believe for his "quality control" work for Buckley's Sketches for My Sweetheart the Drunk posthumous release), Jeff's mother gave Chris Cornell the aforementioned axe. The guitar was sitting right there in front of me! To my amazement, I was even offered a chance to play it!! Alas, because I'm such a DORK, I freaked out and only allowed myself to touch it... D'OH! I truly am an embarassment! ;)]

Jeff Buckley Official Guitar TAB Songbook:
Almost two years ago, various classic cuts from Jeff Buckley's Grace ("Dream Brother," "Eternal Life," "Grace," "Last Goodbye," "Mojo Pin," "So Real"), Sketches ("Everybody Here Wants You," "I Know We Could Be So Happy, Baby," "Jewel Box," "Opened Once," "Vancouver"), and Mystery White Boy ("I Woke Up in a Strange Place," "What Will You Say?") albums were transcribed (transcriptions actually edited by yours truly!), with the eventual goal of publishing them in the form of an official songbook. Well, that day's finally arrived! Follow the link below, if you'd like to read more, and/or snag this one-of-a-kind guitar TAB offering. It comes complete with TAB, standard notation, and all the vocals too:

Jeff Buckley Chord-Style Lesson:
In honor of the recently released Jeff Buckley Guitar Collection (see above), I've decided to add a "Jeff Buckley-Style Chords" lesson to this site!! This particular lesson revolves around a specific chord fingering Jeff Buckley uses in the chorus sections of "Lover, You Should've Come Over," from his lone studio album, Grace. There are chord frames (with rhythmic notation) and MP3s of each of the six examples. I hope you like 'em!!

My Interpretations CD, Inspired By & Dedicated to Jeff Buckley: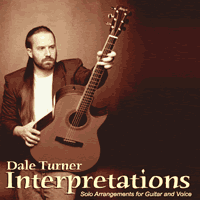 Interpretations—inventive solo arrangements for acoustic guitar and voice. (A CD dedicated to my mother, Jeff Buckley, and a few of my friends.)
This is a disc of 10 unique cover arrangements ("Bohemian Rhapsody," "Castles Made of Sand," "God Only Knows," and other classic songs from the '60s and '70s) I recorded waaaaaaaaaaaaaaay back in December 2000 as a Christmas gift for my mother, Carol. An extensive tribute to Jeff Buckley—the reason I became interested in exploring covers in the first place—is included in the CD's liner notes. The CD also features a Buckley-inspired version of "Hallelujah" (here's an excerpt of its guitar solo/interlude), also dedicated to the man. All the songs were recorded "live" on stellar equipment, in the privacy of my own home (with minimal reverb added, minimal editing, etc.).
The full story (why the CD exists, notes on the arrangements, etc.) and MP3/Real Audio soundclips can be found here:

Live Cover Songs I Performed, Dedicated to Jeff:
Figured *maybe* it wouldn't be totally lame to also add to this tribute some live versions of Jeff Buckley cover songs I've tried ("Moodswing Whiskey" and "Morning Theft" are probably the best), most of which are "set up" with dedications to Jeff Buckley... Hopefully somebody gets a kick out of 'em! :) These are all raw audience recordings (w/mini-disc), recorded live at Los Angeles City College. (Acoustic guitar & vocal, one mic capturing both, running through PA w/no monitors.)
"The Man That Got Away (Live)"
This first one, "The Man That Got Away" (H. Arlen/I. Gershwin), was preceded by a SPOKEN INTRO, whereby I explained how I got turned on to the tune (obviously from Jeff Buckley's Mystery White Boy live disc). Recorded 27 February, 2002.
This second one, a jazz-blues called "Twisted" (W. Gray/A. Ross) was played live on the 5th anniversary of Jeff Buckley's passing. I dedicate the song to him in SPOKEN INTRO (Part 1), then set it up a little further (sorta silly!) in SPOKEN INTRO (Part 2). Recorded 29 May, 2002.
On 18 December, 2002, the Christmas spirit got to me. I figured I'd attempt one of my favorite Jeff Buckley songs in front of some warm bodies! So...
The morning of October 22, 2003 it was announced that the great Elliott Smith had committed suicide the previous day. On the evening of October 22, 2003 a number of musicians (Flaming Lips, the Strokes, and others) at venues in the U.S. and abroad performed songs dedicated to the late singer-songwriter. In my own lo-fi way, I guess I was among them...
That same night, I attempted to pay tribute to the man myself. Since this whole site is about "Intimate Audio," I figured I'd share... I not only "lose it" a little in my SPOKEN INTRO, but choke up during the song's falsetto midpoint. Didn't expect it, but given how totally upset I was that morning, I guess it's understandable.
Anyways, in honor of the man, I played "Moodswing Whiskey" that night. I hadn't tried doing that song in a long time, and actually was slated to play something else, but I felt pretty compelled to give this one a go. Keep your ears peeled for some impromptu modified lyrics (e.g., "Singin' an Elliott Smith melody, with a drink in my right hand..."), obviously in homage.

For some reason the original owner of what's generally regarded as the most-traveled, content-rich Jeff Buckley WebRing on the 'Net opted to pass the torch to someone else. Guess who inherited it? Kinda surprised, but this cat's definitely jazzed about that! So... If you want to engage in a serious exploration of 39 totally different, very informative Jeff Buckley sites, consider surfing this ring. You'll see how diverse his fan base truly is, and learn loads in the process. (Also note that there are *no* non-functioning links within this entire ring—it's 100% navigatable.) Meanwhile, if *you* have a Buckley-related site of your own, consider sharing it with the numerous Buckley fans that regularly surf this ring. There's no fee. All you gotta do is add the Ring's HTML or JavaScript coding to your page.
I also inherited the "Gunshot Glitter" WebRing in late 2003:




Jeff Buckley Music Arranged for String Quartet: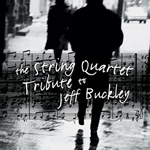 In his short lifetime, Jeff Buckley recorded music of unparalleled beauty and elegance, leaving a body of work as stirringly powerful as it is tragically abbreviated. With his angelic voice and lush soundscapes, Buckley made music that joined uncompromising artistic vision with popular success.
The String Quartet Tribute to Jeff Buckley carries on this tradition, exploring new possibilities in Buckley's music while honoring his original recordings. Featuring some of today's most inventive and skilled string sections, this album includes works from each of Buckley's albums, including songs such as "Grace," "Morning Theft," and "Eternal Life." Offered in loving memory to a true original, The String Quartet Tribute to Jeff Buckley is an album worthy of the man it honors.
Here is the link for full details, audio samples and to purchase.

Morning Becomes Eclectic—KCRW live on-air performance!!!
The Jeff Buckley Bulletin Board
Jeff Buckley sites at Skypo.com

Jeff Buckley sites at MenCelebs.com


find out more at jbuckley.meetup.com


Jeff Buckley sites @ Art Directory