MutantMall.com
—MutantMall.com is the official store of Carl King, his pseudonyms Sir Millard Mulch & Dr. Zoltan Øbelisk, and related artists including Marco Minnemann, Mike Keneally, Dale Turner, and others.

Line 6
—A music products company dedicated to integrating technology with music products to develop innovative solutions for musicians.

D'Addario
—Manufacturer of D'Addario Strings and accessories, Archives Music Writing Products and Evans Drumheads and accessories, as well as the sole North American importer of Vandoren reeds, mouthpieces and accessories.

GuitarInstructor.com
—Learn how to play guitar with our online video guitar lessons, video song lessons, and electric and acoustic guitar lessons from professional instructors. Official guitar tabs and easy guitar tabs for rock, blues, jazz, metal, country, and more.

Neil Zlozower
—In the rock n' roll business for more than 30 years, photographer Neil Zlozower has watched more than his fair share of rising stars from behind the camera...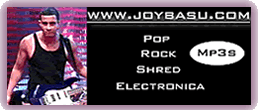 JoyBasu.com—Joy Basu's website consists of projects Joy is or has been involved with. Listen to sound clips of shred, techno, pop, and metal guitar. Performance photos with Jessica Simpson, Jennifer Lopez, Angie Stone, CoCo Lee and more.

Shred Guitar.org
—Shred guitar CDs, clothing and accessories (T-shirts, trucker hats, etc.), free mp3s and free lessons for shred guitar fans!

Acoustic Guitar Workshop.com
—The home of fingerstyle guitar tuition! Includes authentic acoustic blues guitar tuition from one of the world's best players online.