LINKS
My Personal Favorite Linkolas
NEWS FLASH!!! Singer-Songwriter/Multi-Instrumentalist Unveils One-Man-Band ROCK Record on the INTIMATE AUDIO label:


Yep! It finally exists. After four years of slow boiling... Unbelievable! Please check out my brand-new "full band" album of original compositions, MANNERISMS MAGNIFIED (now available through iTunes, AMAZON.COM or go to CDBABY.com for listening / downloading), featuring me performing all the instruments (voices, guitar, bass, real acoustic drums, piano, accordion, and mandolin). I also produced, arranged, engineered, and did all the artwork/illustrations—intimate audio AND visual, lol! (Details can be seen in my YouTube: ALBUM PREVIEW/documentary.) I'd love to hear your thoughts!
###
Meanwhile, check out this collection of my personal favorite linkerooskis—Links to cool guitar-related web sites, resources for the independent musician, numerous music-focused web rings, independent artist-run labels, ear training resources, music rankings pages, and pals of guitarist / vocalist / songwriter / multi-instrumentalist / author Dale Turner:

MutantMall.com
—MutantMall.com is the official store of Carl King, his pseudonyms Sir Millard Mulch & Dr. Zoltan Øbelisk, and related artists including Marco Minnemann, Mike Keneally, Dale Turner, and others.

Line 6
—A music products company dedicated to integrating technology with music products to develop innovative solutions for musicians.

D'Addario
—Manufacturer of D'Addario Strings and accessories, Archives Music Writing Products and Evans Drumheads and accessories, as well as the sole North American importer of Vandoren reeds, mouthpieces and accessories.

GuitarInstructor.com
—Learn how to play guitar with our online video guitar lessons, video song lessons, and electric and acoustic guitar lessons from professional instructors. Official guitar tabs and easy guitar tabs for rock, blues, jazz, metal, country, and more.

Neil Zlozower
—In the rock n' roll business for more than 30 years, photographer Neil Zlozower has watched more than his fair share of rising stars from behind the camera...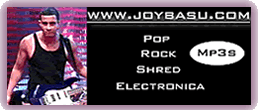 JoyBasu.com—Joy Basu's website consists of projects Joy is or has been involved with. Listen to sound clips of shred, techno, pop, and metal guitar. Performance photos with Jessica Simpson, Jennifer Lopez, Angie Stone, CoCo Lee and more.